"The funniest and most unique party ever. We had a drag queen entertainer, who was able to cater to an audience which had young children and "older generation" ladies.
It was so funny that many people commented on the fact their jaws were hurting because they were laughing so much! Really great and fun!" – Wedding Guest Elizabeth.
"Drags aloud are awesome. We laughed from the minute our 'Priscilla' walked in the room. I booked Drags aloud as alternative from your usual hen party act and I am so pleased I did.
If you want a fun hilarious alternative comedy act you need to book Drags Aloud. I certainly will next time I have a party!" – Bridesmaid Estelle.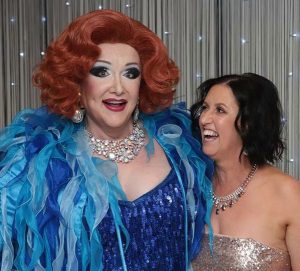 "Amanda was absolutely amazing entertainment for my 50th New York Cabaret cocktail party (girls only) – the songs were perfect and the interactive show was hilarious and set a great mood for the night. A high class act for your function and you will not be disappointed!" – Birthday Girl Jacinta, Blackburn.


"I recently went to a friend's hens and they used Drags Aloud, I was so impressed I had to use them for my upcoming sister's hens. From the organising to the performance I couldn't have been happier.
The surprised faces when a Drag Queen walked through the door was priceless. Her funny humour and fantastic performance was amazing. I would recommend Drags Aloud to everybody. Add a little fun, laughter and the unexpected to your advet, you won't regret it." – Bridesmaid Zoe
"My sister surprised me with Amanda from Drags Aloud for my recent Hen's Night and it was fantastic. Amanda was witty, hilarious and so entertaining. I had so many friends comment that it was the best part of the night.
She stuck around after for photos with everyone which was great. I would highly recommend Amanda for any event where a little bit of fun and frivolity is required." – Bridesmaid, Kelly.
"I had a fabulous time at my Hens night! As a busy events manager and the bride to be, I had my hands full. When it came to organising my own Hens night it really was overload. Drags Aloud were great, the whole process was quick and easy. They had some great packages to choose from and where able to personalise these for me.
We had a wonderful night full of laughter, overall a great night was had by all. Definitely well worth the investment. Thank-you!" – Bride Autumn.
 "How fantastic was your show ! Absolutely fabulous! We had sore faces from laughing. Professional all the way, from booking to show. Absolutely brilliant!"  -Mother of the Bride,  Jennifer.
"They're funny. I love them. A great, great act." – JOAN RIVERS, New York

We opened Joan's Melbourne Show and we were mutual fans. This is one of our favourite reviews. She was opposite to the image she put out on stage. She was gracious and very kind. It was a privilege to work with her.