Something fun, with wicked jokes, clashing colours, and lots of balls!
Your Bingo Hostess will give you an event to remember. It's good dirty fun.
We come to you with our balls, our frocks, and some memorable dirty calls.
So get your heads down, check your boxes and get ready to howl with laughter and shriek with delight.
This is BINGO with a TWIST!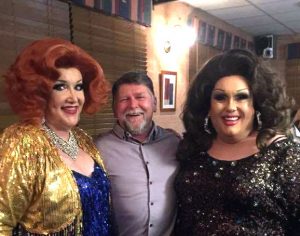 What They Said:
"Thanks so much for an amazing night. Our social club members have come back with responses like 'best night of their lives','an amazing naughty night of laughs' and 'my cheeks still hurt from laughing' 'Talk of the town'

This was our very first function and you are absolutely positively a hard act to follow. We will definitely be getting you back! Worth every cent. Thanks again! " – Gordon Hotel Social and Sporting Club
(and please note, this show is suitable for adults only, so leave the kids with a sitter and let Drags Aloud entertain you with some shock and awe!)