Amanda Monroe talks on trans issues, whether transsexual, transgender, transvestite or any other trans area you'd like to hear about.
If you're searching for a fascinating after-dinner speaker or a unique motivational speaker then Amanda Monroe will inform, delight and entertain your audiences
With all the skill of an experienced performer and story teller, Amanda brings elements of her sold out solo show which detailed her path of transition from male to female. You will hear her perspectives and opinions on the transsexual phenomenon, the transgender passage and paths to understanding the non-binary.
"Amanda Monroe is the real deal. She has been there and back, and she generously shares her journey
with intelligence, raw emotion and wit … She is an inspiration."
–
Paul Lucas – Author and Director TranScripts.
We also provide gender education, including workplace assistance and information sessions designed to entertain and bring gentle laughter to what is often a painful or embarrassing circumstance. Perhaps a workmate may be transitioning, or perhaps you feel that your workplace would gain from exposure to other lifestyles and communities.
We can bring entertainment, information and compassion together and give you a unique insight into transgendered lives.
Tales of an XY Woman
Amanda Monroe has a story to tell about her life … and it's a wonderful  story to hear…
she's with us today to share her story with humour and warmth.  – Adelaide ArtBeat
Tales of an XY Woman is Ama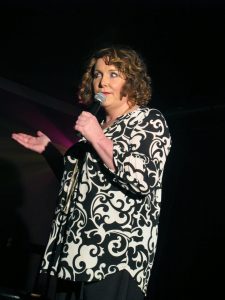 nda Monroe's solo show.
This solo show can be presented as a full hour or in vignettes dealing with the specifics of your educational requirements.
What happens when a middle aged man decides to spend the rest of his life as a woman? He accidentally becomes a drag queen and lives to tell the tale.

With self-deprecating humour, and the benefit of hindsight, Amanda Monroe describes the life changing events that led to her decision to change her gender.

See this show and gain some understanding of the most earth shattering mid-life crisis it is possible to have.

"revelation and triumph …  well-rehearsed … the laughs ensue."
Adelaide Advertiser